Apple Pie with Cheese Crust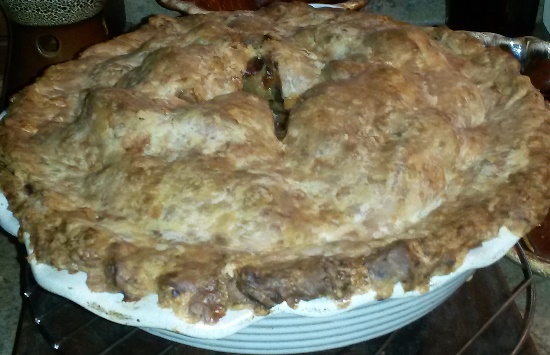 Ingredients - Crust
2 1/2 Cups

AP Flour

1 TBSP

White Sugar

1/2 tsp

Salt

1/2 tsp

Cinnamon

1/4 tsp

Dry Mustard

1 Stick

Un-salted Butter, grated

6 oz

Sharp Cheddar Cheese, grated

2 oz

Blue Cheese, crumbled

1/2 - 3/4 Cup

Ice Water
Ingredients - Pie Filling
2 TSBP

Lemon Juice

4-6

Baking Apples, peeled, cored and sliced

1/2 Cup

White Sugar

1/4 Cup

Dark Brown Sugar

1 tsp

Cinnamon

1/4 tsp

Salt

1/4 Cup

AP Flour

2 TBSP

Butter, diced
Directions - Crust
Sift together dry ingredients
Add grated cheese, toss together. Add grated butter, toss together. Set bowl in the freezer for 15 minutes.
Remove from freezer, cut cheese and butter into flour with a pastry cutter or fork and knife.
With a wooden spoon stir in water a little at a time, just until dough holds together and doesn't feel dry.
Divide dough in half, wrap in plastic wrap and rest in the fridge for 20-30 minutes.
Directions - Pie
Preheat oven to 425 degrees.
On a well floured surface, roll out bottom crust,drape over the sides of a deep dish pie plate.
Dampen the top edge with water.
Put lemon juice in a large, non-reactive bowl. Peel, core and slices apples. Toss with lemon juice as you work.
Add sugars, toss or stir well. Sprinkle with salt and cinnamon then flour. Again, toss or stir well.
Put apples into crust and dot with butter.
Roll out top crust, cover pie. Seal, crimp edges and cut a cross into the top of the crust for steam to escape.
Place on a lined baking sheet. Bake at 425 for 20 minutes. Reduce heat to 375 and continue baking for 45-60 minutes.
Unil crust is golden and filling is bubbling.
Cool on a wire rack several hours before serving.