Old Fashioned Banana Pudding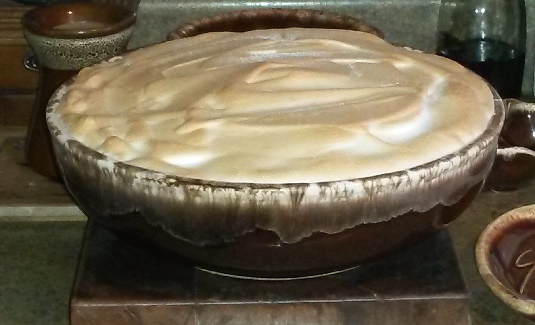 Ingredients - Pudding
3/4 Cup

White Sugar

1/2 Cup

All-Purpose Flour

1/4 tsp

Salt

3 to 4 Cups

Milk

3 or 4

Ripe But Still Firm Bananas

1 Box

Vanilla Wafers

1 TBSP

Vanilla Extract

1 TBSP

Butter

6 Large

Egg Yolks
Ingredients - Meringue
6 Large

Egg Whites, Room Temp

1/4 tsp

Cream Of Tartar

4 TBSP

White Sugar
Directions - Pudding
Preheat oven to 375°F.
Line the bottom of your favorite (oven proof) banana pudding bowl with a layer of vanilla wafers, set aside.
In a 3 quart, heavy bottomed saucepan sift together sugar, flour and salt.
In a large bowl, beat the egg yolks until light and fluffy. Whisk in 3 cups of the milk.
(*Note: If using duck eggs you may want to strain mixture before continuing.)
Whisk milk/egg mixture into flour/sugar mixture.
Bring to a gentle boil over medium heat, stirring often. Pay special attention to the bottom of the pan so the pudding doesn't stick and scorch.
Add butter once the pudding starts to thicken. Continue boiling to desired consistency.
(*Note: As pudding thickens you may need to add more milk. I like to leave mine just a bit on the thin side. It will thicken as it cools and the wafers will soak up some of the extra moisture.)
Remove from heat. Stir in vanilla.
Slice a layer of bananas onto the layer of wafers, top with half of the pudding.
Continue with another layer of wafers, banana slices and the rest of the pudding.
If you are not a fan of Meringue you can certainly stop right here and enjoy your pudding.
Otherwise lets keep going...
Directions - Meringue
In a glass or stainless steel bowl beat (room temp) egg whites at high speed until soft peaks start to form. Add the cream of tartar, continue beating.
Spinkle sugar in one TBSP at a time, continue beating until stiff peaks form.
Spoon meringue over pudding making sure the whole top is covered and sealed.
Bake 10-12 minutes until the top of meringue is a nice toasty brown.