Rabbit Stew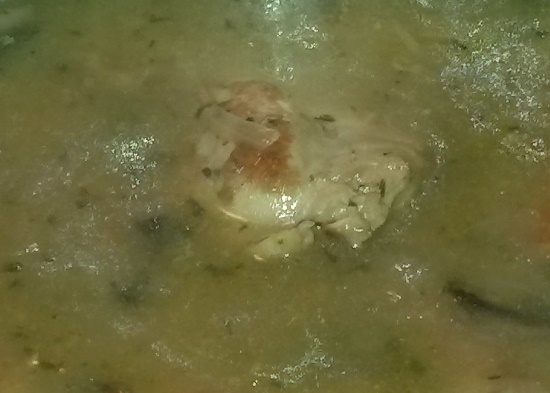 Ingredients
5-6

Rabbit Hind Legs

2 TBSP

Butter, divided





1

Onion, sliced from root to tip

6-8

Mushrooms, sliced

2 Heaping TBSP

AP Flour





4-6 Cups

Water

1 TBSP

Better Than Bouillon Chicken Base

2 TBSP

Lemon Juice

1 TBSP

Preserved Lemon Rind, minced

2

Bay Leaves

2 tsp

Dried Parsley

1/2 tsp

Black Pepper

1/4 Black Pepper

Garlic Powder

1/8 tsp

Fresh Ground Nutmeg





1/2 Cup

Crisp White Wine





Capers, rinsed

Sour Cream
Directions
Pat rabbit legs dry. Preheat dutch oven or heavy bottomed soup pot over medium low heat.
Melt one TBSP butter, brown rabbit on both sides. This may need to be done in batches to keep from over crowding.
Take care not to let the butter scorch. Remove rabbit, set aside.
Add remaining butter, onions and mushrooms, sautée for a few minutes; until onions start to get soft and translucent.
Sprinkle flour over onions and mushrooms. Cook for a few minutes, stirring continuously.
Put rabbit back into the pot. Add just enough water to barely cover the meat.
Add remaining ingredients; except the wine. Stir well, being sure to scrape the bottom of the pot.
Bring to a boil. Reduce heat, add wine and simmer for 1 hour.
Taste broth, adjust salt and spices as neccesary.
Continue to simmer 1-2 more hours until rabbit is fork tender and almost ready to fall off of the bone.
Dish into serving bowls. Top each bowl with capers (about 2 tsp each) and a dollop of sour cream.
Serve with crusty bread and a salad.